Introduction: The Importance of Choosing Indian Crackers
When it comes to celebrating special occasions like Diwali, crackers are an integral part of the festivities. However, with the increasing popularity of Chinese crackers, it is important to consider the impact of our choices on our environment, economy, and national security.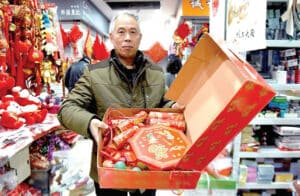 Environmental Impact: Choose Eco-Friendly Indian Crackers
Chinese crackers are often made with harmful chemicals that pose a serious threat to the environment. These chemicals not only release toxic fumes but also contribute to soil and water pollution. On the other hand, Indian crackers are made using eco-friendly materials and methods, making them a better choice for the planet. For instance, some Indian crackers are made with recycled paper and natural ingredients like flowers, leaves, and food coloring.
Economic Benefits: Supporting Local Businesses
By choosing to buy Indian crackers, you are supporting local businesses and helping to boost the Indian economy. Indian cracker manufacturers employ a large number of people, especially during peak seasons like Diwali. When you buy Indian crackers, you are contributing to the growth of small and medium-sized businesses. Moreover, local businesses are more likely to follow ethical and environmental standards than Chinese manufacturers, who may exploit workers and engage in unethical practices.
National Security: Avoid Funding China's Military
Buying Chinese crackers may seem like a small act, but it can have larger implications. A portion of the profits from Chinese crackers is believed to go towards funding the Chinese military, which can be a threat to India's national security. Moreover, Chinese crackers may contain toxic substances like lead and barium, which can be harmful to human health. In contrast, Indian crackers are subject to quality checks and safety regulations, ensuring that they are safe for use.
Conclusion: Choose Indian Crackers for a Better Future
In conclusion, choosing Indian crackers over Chinese crackers can have a positive impact on our environment, economy, and national security. By making a conscious choice to support local businesses and reduce our carbon footprint, we can create a brighter future for ourselves and future generations. So this Diwali, make a responsible choice and choose Indian crackers.
Frequently Asked Questions:
1. Are Indian crackers more expensive than Chinese crackers?
No, Indian crackers are not necessarily more expensive than Chinese crackers. In fact, some Indian crackers can be more affordable than their Chinese counterparts. The price of crackers may vary depending on the type and quality of the crackers.
2. Can Indian crackers match the quality of Chinese crackers?
Yes, Indian crackers can match the quality of Chinese crackers in terms of sound and visual effects. Indian manufacturers have been constantly improving their products by using advanced technology and techniques. Many Indian crackers are known for their vibrant colors and loud noise, which can match the intensity of Chinese crackers.
3. What are some eco-friendly Indian crackers?
There are several eco-friendly Indian crackers available in the market. Some examples include flower pots, sparklers, and phooljhadis. These crackers are made from natural ingredients like flowers, leaves, and bamboo sticks. They are also biodegradable, which means they don't harm the environment.
4. How can I ensure that the Indian crackers I buy are safe?
It is important to buy crackers from reputed and licensed manufacturers to ensure that they are safe for use. Additionally, you can look for safety symbols like the ISI mark or the CE mark on the packaging. It is also advisable to follow safety guidelines while using crackers, such as keeping a safe distance and wearing protective gear