Bursting crackers makes us happy. Why not learn some history about it. Let's dive into the journey of firecracker's history and their significance through out the period of time.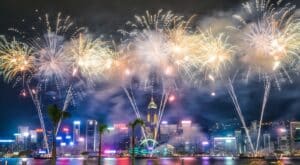 The ancient origins of firecrackers and how they've become a cultural tradition
Firecrackers have been a part of cultural traditions for centuries. The Chinese are credited for inventing the first firecrackers, which were made from hollowed-out bamboo stalks filled with gunpowder and set off with a spark from a flame.
The Chinese used firecrackers to ward off evil spirits, announce important events or milestones, and as a lucky charm. As Chinese immigrants immigrated to other parts of the world. They brought with them the tradition of using firecrackers as a way to celebrate special occasions.
Today, fireworks and firecrackers are a common way to celebrate life's milestones. Firecrackers are often seen as a celebratory device to mark Chinese New Year, weddings, birthdays, and other special events across the world. They've also become deeply ingrained in traditional Chinese culture. continue to be used widely to honor the gods, celebrate the lunar new year, and bring luck and good fortune.
Exploring the cultural significance of firecrackers in different festivals and celebrations
Firecrackers are a staple of many different festivals and celebrations around the world. In Chinese culture, firecrackers are an integral part of various celebrations. During the Chinese New Year and certain spiritual celebrations, firecrackers are set off to ward off evil spirits and bring luck. Firecrackers are also used during the Lantern Festival, which celebrates the beginning of spring.
In India, firecrackers are used to celebrate Diwali, a festival of lights. Fireworks are set off to celebrate the victory of good over evil and to bring in a new auspicious beginning.
In Japan, firecrackers are a popular part of numerous annual festivals. During the New Year Eve celebrations, firecrackers are used to signify joy and happiness. Firecrackers are also used during festivals such as Bon-Odori, a traditional Japanese dance festival.
In Spain and Latin America, firecrackers are used to celebrate the Las Fiestas de San Fermin, a religious festival that honors a patron saint. Firecrackers are used to symbolize the sacrifice of St. Fermin and to mark the climax of the celebration.
Firecrackers are also popular in North America. During the Fourth of July holiday in the United States, firecrackers are used to celebrate. Firecrackers are often used during cultural parades and at nighttime celebrations to symbolize freedom and unity.
Firecrackers are seen as a way of making noise in order to bring in a new, auspicious time. The loud bangs created by firecrackers are seen as symbols of luck and prosperity. Firecrackers are also symbolic of joy and celebrations, and are used to welcome newlyweds or new babies, or to celebrate occasions such as graduations or birthdays.
From China to India: tracing the historical journey of firecrackers:
By the 1700s, firecrackers had arrived in India, courtesy of Chinese and Portuguese traders who introduced them through the network of Asian trading routes. Initially, firecrackers were seen as a Chinese tradition and people outside of China kept it for special festivals or events. 
However, over the next few centuries, firecrackers began to take on a more prominent role in Indian culture, as festivals and religious holidays became increasingly associated with them. For example, they became a part of Diwali celebrations and were used to ward off bad luck, keep away evil spirits and signify joy and good fortune. 
Today, firecrackers remain a vibrant and essential aspect of Indian culture and are used year-round during religious holidays and festivals such as Diwali, Ganesh Chaturthi, and Holi. Firecrackers are now even used as popular toys and games all over India, as well as for various practical or artistic purposes.
The role of firecrackers in religious and spiritual ceremonies
Firecrackers are often used as a way to mark important events or spiritual ceremonies. In some religions, such as Hinduism or Buddhism, firecrackers are used during religious ceremonies to symbolize the presence of the gods. In other religions, such as Christianity and Judaism, firecrackers can be used to celebrate various feast days and religious holidays. Firecrackers are also used as a part of some initiation ceremonies or rites of passage, marking the transition of a person from one stage of life to another.
How firecrackers have evolved over time and their cultural significance today:
Firecrackers have been around since ancient times, and their use has evolved greatly throughout their history.
In ancient China, firecrackers were used to ward off evil spirits and to mark the start of festivals and other important events. The sound created by firecrackers was believed to scare away bad luck and bring good luck, and it was also considered a form of communication.
In the 17th century, firecrackers were introduced to Europe and began to be used at celebrations, such as holidays and royal ceremonies. The noise created by the firecrackers was also believed to bring joy and good luck.
In the late 19th century, firecrackers were used as military signals and were also used in many public and religious ceremonies.
Today, firecrackers are primarily used for recreational purposes, such as at festive celebrations like New Years and the Fourth of July. Firecrackers are still believed to bring good luck and ward off evil spirits and bad luck in some cultures. They also remain a form of communication in some parts of the world. Firecrackers are also used to mark important events, particularly in the East, such as the Chinese New Year.
The symbolism and meanings behind different types of firecrackers
Firecrackers are used in many cultures as a way to celebrate events or bring good luck. The symbolism and meanings behind different types of firecrackers can vary. In Chinese culture, firecrackers are often used to ward off bad luck and to bring prosperity and joy. Firecrackers shaped like lotus blossoms are said to represent purification and the blossoming of good fortune. Red firecrackers are said to bring joy and longevity, and crackers that make loud noises are thought to ward off negative energies. Firecrackers shaped like dragons are said to symbolize strength and power and fireworks shaped like flowers are said to bring good luck and prosperity. Firecrackers are also used in Japan as part of the New Year celebrations, and in India to celebrate major holidays like Diwali.
How firecracker industry evolved in sivakasi:
The firecracker industry in Sivakasi, a town in the southern Indian state of Tamil Nadu, has a long and complex history. The industry evolved gradually over the course of the 20th century, as local entrepreneurs began to experiment with different methods of producing fireworks and other pyrotechnics. By the 1950s, Sivakasi had emerged as a major center for the production of firecrackers, and the industry continued to grow throughout the following decades, driven in large part by the town's skilled labor force, abundant raw materials, and favorable regulatory environment. Today, Sivakasi is widely regarded as the "fireworks capital of India," producing an estimated 90% of the country's fireworks and exporting to countries all around the world. However, the industry has also faced significant challenges over the years, including safety concerns, environmental issues, and economic pressures, leading to efforts to modernize and streamline production processes while maintaining the traditional craftsmanship and cultural heritage of the industry.